Interaktive Picture Frame

Background and Goals
Modern convergent Information and Communications Technology solutions, merging telephony, Internet and video applications are often not or only restrictedly applicable for elderly users although elderly people could benefit a lot from using such solutions.
As a contribution for overcoming this "digital divide" a research prototype of a new communication platform for elderly people – called the "Interactive Picture Frame" (in German "InterAktives Bild" – IAB) – was developed and evaluated. The system is based on the availability of fixed line broadband-access and touchscreen-technology. To raise the acceptance of this videophone system by the target group, it should not be perceived as a technical system, rather as a nice looking piece of furniture. Therefore the used touchscreen was integrated into a wooden frame.
Potential future users were involved throughout the whole development process and also participated as test-users in trials guided by the research team and a real-life field trial. The goal of those trials was to evaluate if and to what extent the elderly participants would benefit from using such a modern multimodal way of communication. Four prototype systems were installed in four private homes and were tested successfully by six persons. It was found that the elderly users actually benefited from the touchscreen control, the proportionally large-scale GUI and the VoIP-and video-telephone functions. Despite the small scale of the evaluation the gathered data demonstrates the potential this technology might have in daily life in particular for the emerging ambient assisted living (AAL) area.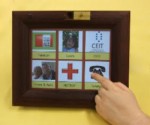 Project Status
completed
Extern Links
Contact
Project Sponsorship
The project IAB was funded by Telekom Austria AG.
Project Partner