Long Lasting Memories

Background and Goals
Long Lasting Memories (LLM) is an EU project aiming at an integrated ICT platform combining state-of-the-art cognitive exercises and physical training integrated into the framework of an advanced ambient assisted living environment (AAL smart home).
Combination cognitive exercises and physical activity LLM delivers an effective countermeasure against age-related cognitive decline, thus actively improving the quality of life of the elderly and significantly prolonging the time they can remain independent at home.
LLM offers support to elderly people and their relatives and families by:
monitoring of day to day activities of senior citizens and identifying imminent hazards,
increasing their self-esteem and alleviate symptoms relevant to cognitive decline and potential depression,
carrying out fitness training.
The following video shows how the projects idea is pursued after the projects end by the project coordinator "Aristotle University of Thessaloniki".

Project Status
completed
Extern Links
Contact
Project Sponsorship
The project LLM was funded within the framework of CIP ICT-PSP-Program by the European Union.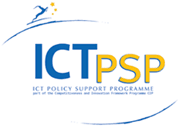 Project Partner